Everything is ready for the Massive Boxing Class, to be held this June 18 on the esplanade of the Zócalo of CDMX; seeks to impose a Guinness record
BY RODOLFO ROSALES S.
In 2017, Red Square in Moscow was the venue for the Massive Boxing Class and the Guinness record of 3,300 participants was set.
Mexico, a country with a long boxing tradition, will seek not only to break that mark, but to impose a new one that no one can match.
So, with the organization in charge of the Sports Institute (Indeporte) of Mexico City, with the support of world champions and former champions, as well as the Boxing Commission and the World Boxing Council.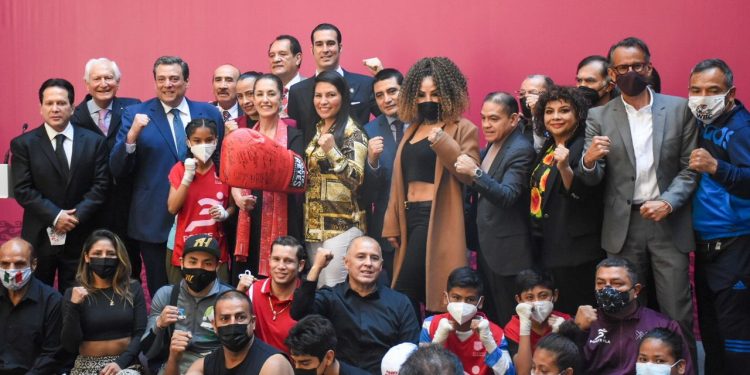 The appointment is this June 18 at nine in the morning on the esplanade of the Zócalo in Mexico City, where some 30,000 people are expected to take part in this mega event.
But achieving the Guinness record will not be an easy task, as it will consist of participants performing 30 boxing combinations, one minute each, non-stop, until completing half an hour of exercises.
If 10% of the participants are wrong, then there will be no record, because it is about synchronicity and not about the number of people.
Faced with such a demand, Indeporte was preparing the participants through its Pilares program, where it has instructors in Mexico City, in addition to the classes that the WBC has coordinated for four consecutive Saturdays with world champions and former champions.
 "It is about this being a great boxing party from Mexico to the world, to send a message that we Mexicans know how to organize ourselves to do positive things, said Javier Hidalgo, director of Indeporte..
The Massive Boxing Class is the great event and to respect the health measures, each participant will have a distance of 1.60 meters, to preserve a healthy distance and be able to carry out the activities during the 30 minutes.
This activity seeks to motivate youth to practice sports, especially boxing and why not the generation of new boxing figures and legends in each neighborhood.o.
Each participant will receive a cap, a commemorative shirt, a chip for electronic registration and their participant number.
"We want to break the Guinness Record for the largest Boxing Class; It is half an hour that they have to be active, that is, they have to have previously practiced boxing so that they can register, Javier Hidalgo commented..
The inscriptions were closed when the quota of 30,000 applications was reached.